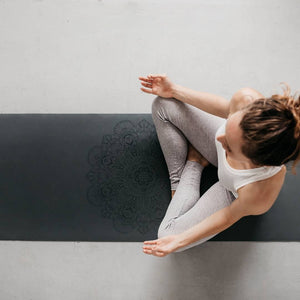 GET THE BEST GRIP IN A YOGA MAT.
WORLD'S FIRST GRIPPY YOGA MAT YOU CAN DRAW ON
With an ultra-strong grip and stay-down corners, the DIYogi™ mat is always firm and stable. Made with sustainably sourced natural rubber, this mat is eco-safe, vegan-friendly, plastic-free and fully recyclable.
AS SEEN IN
GRIPPY MATS YOU CAN DRAW ON
real reviews from DIYogi™ customers
★★★★★

The best

This is by far the best mat I've ever owned, and I tried many! The texture is very soft and slick, but still non-slippery (even during a sweaty intense vinyasa session), plus it's lightweight and beautiful! Highly recommend it.

Zoe Flammang

London, United Kingdom
★★★★★

Perfect mat with amazing grip

This is a wonderful yoga mat, it doesn't slip at all and the design on it is so beautiful it takes your breath away when you unroll it. Truly an amazing mat that's both extremely good quality but also gorgeous to look at. Thank you!

Vivian Hu

Royal Turnbridge Wells, United Kingdom
★★★★★

Great quality mat 

Such an amazing yoga mat, really great quality and also I love that it's eco friendly and well made!

Jackie Radcliffe

Ocala, FL
★★★★★

Good find 

Shipping was faster than expected and the mat is just gorgeous and very non slip. It's worth the invesment and I'm really glad I bought it. Would recommend to anyone still thinking whether to take the leap.

Nora Lee Tifford

London, United Kingdom
★★★★★

The best mat ever 

This is the best yoga mat I've ever owned and I'm so happy to have found this brand!!

Jemma Collins

London, United Kingdom
★★★★★

Excellent mat with great grip 

Love this mat and so happy I found this brand! The grip is way better than ALL other brands I've tried, it's easy to clean and you can use it right away - no need to break it in or prep in in any way before first use. Being eco and customizable is a huge plus. Great customer service too! Thanks a lot!

Lydie Suchkin

Edmonton, Canada
★★★★★

Great 

I've never splurged on a great yoga mat but finally decided to...and I'm SO glad I did. The mat is exactly as they say... I was nervous that it looked too thin but it's definitely not. It has plenty of padding. It truly is a beautiful and perfectly functional mat...very worth the cost. It also shipped very promptly. Great buy!!

Tressa Heath

Lafayette, IN
★★★★★

Best mat I ever tried 

Great, great mat! Can't recommend enough. Very good grip and very comfortable, really fast shipping and helpful customer service team who really care about their products and their customers. Very happy with my choice!

Jack

Cardiff, United Kingdom
★★★★★

Excellent 

Excellent top-quality mat with a super non-slip surface which was exactly what I wanted. The mat was ready to use, didn't need breaking in, and the rubber doesn't really smell at all. And the mandala in the middle is stunning! So happy with my new yoga mat. :)

Virva Lompolo

London, United Kingdom
Fighting plastic pollution
WE DONATE 5% OF PROFITS TO HELP PEOPLE AND NATURE
We donate 5% of our profits from each DIYogi™ yoga mat sold to 2 non-profit organisations that help remove plastic from our oceans, preserve nature & help develop local communities in remote areas.
see more
THE BEST FEATURES IN A YOGA MAT
ENJOY THE PERFECT GRIP AND BALANCE
You can draw on all DIYogi™ yoga mats
Hi, my name is Maria and I can talk to anyone about yoga mats all day ever since before launching DIYogi in London back in 2019 (thank goodness I have supportive friends who still stick around!).
Why I love talking about something simple like yoga mats so much? I'm proud to say that the DIYogi™ mat I created is the polished and wonderful result of years of research with just one goal in mind: to help busy people like you look forward to each yoga practice.
read more
from our blog
what is the best yoga mat thickness?
Here is our guide on how to pick the best yoga mat thickness for your practice.
READ THE GUIDE